[an error occurred while processing this directive]
To all Cajun Chess Customers:
As many of you know, Jean Troendle, Founder and Owner, passed away over the summer.  The company has been sold to Ed Labate, and in a short time, it will reopen as "Labate's Cajun Chess".
On behalf of the Troendle family & company staff, we would like to express sincere gratitude to all our customers and tournament attendees over the years, and it is our hope that Jean's dedication to the players will live on in the company's new form for many years to come.
- Cajun Chess
The Lexington Deluxe Chess Set

A Cajun Chess Exclusive!

Magnificent set of heavily-weighted plastic chess pieces features a 3-3/4" king with a 1-1/2" base covered in a thick green felt....

A truly classy set!

Liquidation
on the Chess Board:

Mastering the Transition
into the Pawn Ending

"A ground-breaking, entertaining and instructive guide" - book from
Joel Benjamin

- Signed by the Author!

Knit Chess Hats!

Rook Knit Hats - Now in
Even More Awesome Colors!

Make sure your little chess player stays warm & stylin'...

Great Chess
Stocking-Stuffers!

Lots of Fun Accessories, like:

Unique Chess Jewelry

A Cajun Chess Exclusive!

Beautiful Hand-crafted, Chess-themed Jewelry by Julissa includes:

Necklaces (girl's and boy's)
Charm Bracelets (pictured)
Chess Piece Earrings
...and more

"Classic Series" Wood Chess Sets

Well-crafted Wooden Tournament Sets, at a Decent Price!

A House of Staunton original, offered
from Cajun Chess!
Five different sizes available
Various wood-type/color choices

Some Sweet Chess Tees

Exclusive Shirts for Everyone!

Unique chess t-shirts with original art and sayings, for boys and girls.

Cool chess t-shirts in all sizes, starting at just $12.99 each -- OR available for less, with sweet 'Quantity Discounts' too!

Chess Players Premium Hard-Cover Notation Scorebook, 100 games

NEW in Green w/Gold foil lettering, Black w/Blue foil lettering, or White w/Black foil lettering!

Each sheet has space to record 60 moves & a diagram

Check This Out!...

Checkbook Magnetic Travel
Chess Set

Great for Clubs and Schools, and as a gift! - our "Checkbook" Set is perfect for players on the go! Compact yet completely playable, with strong magnets.
When not in use, can be folded and stuck in your shirt pocket!...

Chess Medals, Tournament Awards

Various types and shapes; available in Gold, Silver, Bronze!
---
Including:
Basic Club Chess Set Combo,
Deluxe Tournament Combos,
Club Series Chess Set
...+ More!
All you need in Chess Demo Boards + Accessories
---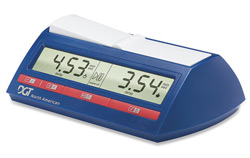 Easy to Use Digital Game Timer for All Chess Players - FIDE Approved!

Shop ALL Chess Clocks!
---
---
---