Gear Up on Chess Supplies This Fall!
DVD Combo Specials

Two Cajun Hot Buys on instructional DVDs from Grand Master Susan Polgar!

Special 1: Any 5 DVDs
for only $75.00
Special 2: All 14 DVDs
for just $199.00

(Note: Bought individually, these DVDs would be $17.95 each!)

Liquidation
on the Chess Board:

Mastering the Transition
into the Pawn Ending

"A ground-breaking, entertaining and instructive guide" - book from
Joel Benjamin

- Signed by the Author!

The Coach's Chess Bag

Coach's Tournament Tote!

A Chic-looking, roomy, strong, light-weight gear bag - holds boards, pieces, clocks, scorebooks, pencils + whatever else a chess coach may need for the tournament.

Talk About Clocks...

Hot Brands in Cool Chess
Game Timers and Clocks!

Names Including:

DGT
Chronos
ZmartFun II LED

(The NEW Ones!)

Diamond Quartz

- All at Prices that are Hard to Beat!

Unique Chess Jewelry

A Cajun Chess Exclusive!

Beautiful Hand-crafted, Chess-themed Jewelry by Julissa includes:

Necklaces (girl's and boy's)
Charm Bracelets (pictured)
Chess Piece Earrings
...and more

"Classic Series" Wood Chess Sets

Well-crafted Wooden Tournament Sets, at a Decent Price!

A House of Staunton original, offered
from Cajun Chess!
Five different sizes available
Various wood-type/color choices

Some Sweet Chess Tees

Exclusive Shirts for Everyone!

Unique chess t-shirts with original art and sayings, for boys and girls.

Cool chess t-shirts in all sizes, starting at just $12.99 each -- OR available for less, with sweet 'Quantity Discounts' too!

"Night Hunter XTREME" Glow-in-the-Dark RC Helicopter

Wireless Rechargeable Micro Helicopter with Built in LED Lights!

Very Cool... and Just $22.95!

Wood Chess Boards

Beautiful Wooden Boards, available in numerous square sizes.
---
Including:
Basic Club Chess Set Combo,
Deluxe Tournament Combos,
Club Series Chess Set
...+ More!
All you need in Chess Demo Boards + Accessories
---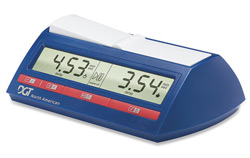 Easy to Use Digital Game Timer for All Chess Players - FIDE Approved!

Shop ALL Chess Clocks!
---
---
---